Team Great Britain Youth Training Clinic
Members of Team Great Britain are trading in their hockey sticks for metre sticks next month, as they'll be spending some time teaching your kids the fundamentals of ball hockey. Ok, they'll still be using hockey sticks, but you get what we're saying.
On Saturday, November 3rd*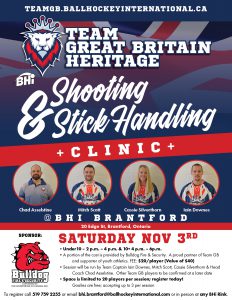 will be at BHi Brantford to conduct another round of clinics.
The under 10 clinic will be held Saturday, November 3rd from 2:00 pm to 4:00 pm, and the 10 and over clinic will run from 4:00 pm to 6:00 pm. The fee is $20/player (a $40 value); a portion of the cost is provided by Bulldog Fire and Security, a proud partner of Team GB and Supporter of youth athletics.
To register for the Brantford Clinic now, call 1-(519)-759-2255 or email [email protected], or visit any BHi Rink in person.
Please note: space is limited to 20 players per session (goalies are free – accepting up to three per session).
Don't miss out! Sign your kids up to learn pro shooting and stick handling moves from some of the best players the sport has to offer
*Other Team Great Britain players to be confirmed at a later date.